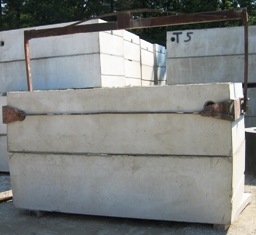 Septic Tank Ready for Loading
We offer a variety of Septic Tanks to suit your commercial needs. All tanks are built to the strictest specifications and are uniform in density and size. Watertight joints, connectors and inserts are used when appropriate to ensure the integrity of the entire system. Commercial Tanks from Concrete Products are available in sizes from 3000 to 8000 Gallons. To ensure the utmost in reliability, vacuum or water testing is available at our facility. Please review the Sizing & Tabulation Chart and click on the Technical Schematics of the tank to review optional configurations before ordering. All commercial septic tanks from Concrete Products are designed to meet all local building and environmental codes and feature the following unless indicated.
Inlet and Outlet Baffles constructed of PVC Pipe
Concrete is 5000 PSI at 28 days
Sealed with a Butyl Rubber
Excavation MUST be at least 12" wider and longer than tank size!!
Click on the AutoCAD Drawings button to View, Download, or Print Schematics for the following products.

Top View Comm Tank

Section AA
3000 Gallon Septic Tank Schematic
3500 - 4000 Gallon Commercial Tank
Distribution Box - 5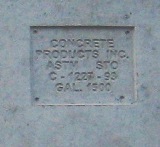 Distribution Box - 7
Distribution Box - 12